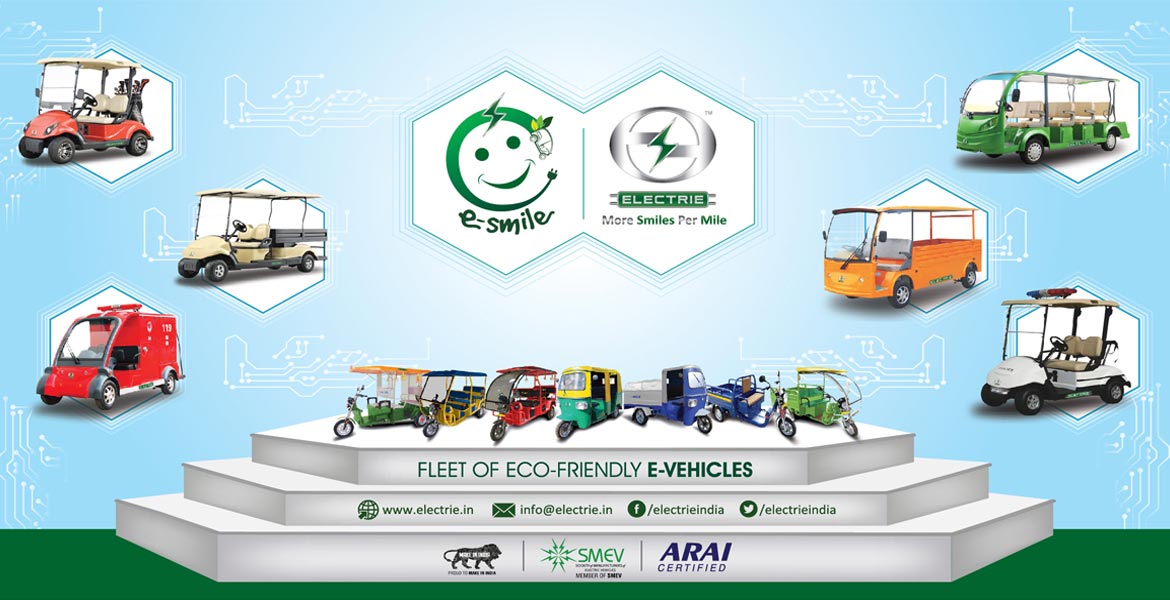 We at ELECTRIE have emerged with a simple vision – to provide high-end Electric Vehciles which would meet the increasing demand of industries and customers in the best possible way. ELECTRIE is a brand unit of One Auto Pvt. Ltd., The company is a part of the multi-diversified Misra Group, which has large interests in Mining, Steel, Infrastructure and allied businesses.
In line with the Government of India's vision for "Make in India", ELECTRIE has attained a remarkable position by setting up a manufacturing unit and marketing network of electric vehicles. Our exposure to the global markets has enabled the brand to provide solutions that stand out from the rest through successful agreements with:
– Dongfeng Electric Vehicle Co. Ltd. – A Fortune 500 Global Company.
We are an active Member with the Society of Manufacturers of Electric Vehicles (SMEV), India enabling us to be part of the Government policy making under the Green Ride campaign. With the Government of India's vision to introduce smart transportation under their smart cities development scheme, our range of Electric Vehicles find a large utility and will have an environment friendly and economical cost of transportation.
Our Manufacturing facility is located at Pune which is fully equipped with a semi-automatic assembly line, under the supervision of our strong R&D team of high skilled design Engineers, absorbed from various leading Automobiles Industries of India. Our assembly facilities at West Bengal and New Delhi caters to the market demand for Eastern and Northern part of India.
We have aggressive and experienced Sales and Marketing teams, which provide superior Sales, Service and Spares support on Pan India basis through our network of offices and business partners.
Electrie recognises the need for an environmentally sustainable business and to operate in a way that will minimise adverse effects on people and the environment.
Since the inception of ELECTRIE, we profoundly focussed on innovative technology and user-friendliness. Superior manufacturing processes, top notch technologies and innovative talent have made it possible for us to create a niche for ourselves in the market.
Our focus is to provide low-cost and high-utility solutions which people would love. We at Electrie are trying to offer a platform for the unemployed youth and the under privileged Cycle rickshaw owner to upgrade their lifestyle. We are also proud of the fact that our offerings of Premium Electric vehicles have found immense application in a number of sectors and industries like resorts, government houses, trade shows, warehouses, hospitals, factories, IT parks and farm houses.
We shall proactively work in partnerships with employees, clients, suppliers and appropriate public bodies to ensure that all our services and business processes meet this environmental challenge.
Our high-quality and reasonably priced products lends a touch of favouribility to us. We believe in following standards and quality policies so that we can deliver something valuable to our clients. Our business dealings are ethical and transparent and all our approaches are focused on raising the quality standard of our products.
Superior quality products distinguish ELECTRIE from the rest in the market. We believe that quality is the determining factor for the success of any product, and we focus on raising our standard each time. Our quality control unit has experienced and professional quality controllers who ensure that the quality of our products conform to superior standards, and our valuable clients get nothing but only satisfaction from us.
With our focus towards customer satistfaction and constant improvisation in technology, our products are designed with various innovative features, which has set a new benchmark in the Electric Vehciles Industry. We propose to introduce our infrastructure network of charging stations & under our future development plan, build hybrid, electric Autorickshaw & 2 wheelers.
Our state-of-the-art infrastructural facilities have met the ever-increasing and changing demands of our clients. Our infrastructure is segregated into various departments where professionals work in an organized and planned manner. The various departments include:
• Assembly Infrastructure
• R&D
• Quality Control
• Sales and Marketing
• After Sales Service & Warrant
Spares

Our Sales & Services

Finance & Insurance

Registration

Warranty Support

Highly Economical

Zero Emission means of transport

Alternative to Petrol / Diesel / CNG

Low Maintenance Cost & Hassle-free
Happiness does not come from doing easy work but from the afterglow of satisfaction that comes after the achievement of a difficult task that demanded our best.

Theodore Isaac Rubin

Happiness does not come from doing easy work but from the afterglow of satisfaction that comes after the achievement of a difficult task that demanded our best.

Theodore Isaac Rubin
SOME OF OUR FEATURED PRODUCTS